Welcome to my blog! Thank you for hoping by from Military Monday!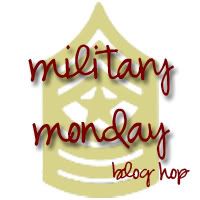 Hop on over and link up!
What did I do you may ask this past weekend?
Saturday: What a LONG day. I headed over to Marine Girlfriend's house to help get together all of her tamales and tortillas we would be serving later that evening at a dinner fundraiser event. We packed up all the food as well as her Pampered Chef and Tupperware product catalogs and headed over to the event site. It was such a neat event and we served homemade tamales and tortillas to about 200 attendees! The food was a hit and I know she is going to do well in the catering business. She also even had many people interested in her Pampered Chef and Tupperware items. You go girl! She is such a busy mommy of three and her FOURTH is due ANY day! She IS supermom!
Then, it hit me right before bed, the big, bad, COLD! Yuck, I dislike being sick.
Sunday: Pretty much the WHOLE day I rested. My head cold was worse. I even found myself asleep on the couch in the Bman's room. Thankfully hubby did most of the house chores as I was too exhausted to help much. I think I did manage to clean the guest bathroom, bedroom, and do a couple loads of laundry!
I hope everyone had a lovely weekend. You are ALL so fabulous!