Hey there lovely followers!
Haute Mommy
is hosting a giveaway of the ever so fashionable Charlie Banana one size cloth diaper!
Charlie Banana
is known for their trim design and adorable solid colors. They also have a few adorable prints to choose from.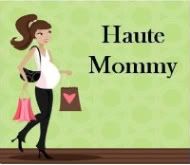 I also have noticed they sell Charlie Banana online at
Target.com
. Finally a nice CD at Target! Haute Mommy also states they are sold at Amazon.com.
I know I would LOVE to win one of these as they are so cute and we don't own one!
To enter just go to
Haute Mommy
's blog and follower her instructions! Good luck!